If you're planning a Horizon Europe submission at some point in the coming year, then this is a major event that you will certainly want to take advantage of: As of the 16th June 2021, the first work programmes setting out funding opportunities under Horizon Europe have just been published! No more swapping leaked drafts and worrying about unexpected changes, these are the concrete details, dropping the last barrier holding you back. It's time to launch right into your proposal!
First off, it's worth a reminder of the pillars that make up Horizon Europe: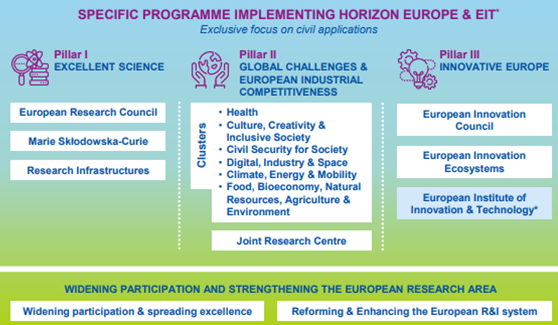 The new releases are the following parts of the main programme:
Marie Skłodowska-Curie actions and research infrastructures under Pillar I (Excellent Science)
All clusters and missions under Pillar II (Global Challenges)
European innovation ecosystems under Pillar III (Innovative Europe)
Widening participation and strengthening the European Research Area across pillars
Other targeted work programmes not part of the main programme were released previously, including:
European Research Council (ERC) under Pillar I
Joint Research Centre (JRC) under Pillar II
European Innovation Council (EIC) under Pillar III
So now, everything is released and underway. Over the two years of the first work programmes (2021-2022), the European Commission will award €14.7 billion in grants, including €5.8 billion for achieving Europe's green goals and €4 billion for the development of digital technologies. With over 40% of funding being directed towards green goals to tackle climate change, it's a very good time to look at any environmental angles in your own ideas if you're looking for funding!
The first calls officially open on 22nd June, which will be the official starting-pistol (although your competition will already be well out of the gate by then, so don't delay!) and the Commission is holding a 10-day series of information events between the 28th June to the 9th July. These information days are free, don't require advanced registration, and are easy to dip in and out of, so you only need attend the sessions you're interested in. These days are genuinely useful, and it is well worth making note of the dates relevant to your research. More information about the information days can be found here: Homepage | Horizon Europe Info Days 2021 (horizon-europe-infodays2021.eu)
Good luck to everybody running in these calls, we look forward to many more exciting innovations for Europe!