Horizon 2020 is finishing up, and Horizon Europe will arrive in the early months of 2021. The big question from researchers currently: what has changed? The simplest answer is not too much. Horizon Europe is an evolved Horizon 2020, rather than a different beast entirely. Both consist of three pillars, as well as horizonal action supporting all three pillars. However, there are various changes that you should certainly be aware of before you begin preparing your applications. The figure below highlights the key differences for you, the researchers, which will then be discussed piece by piece.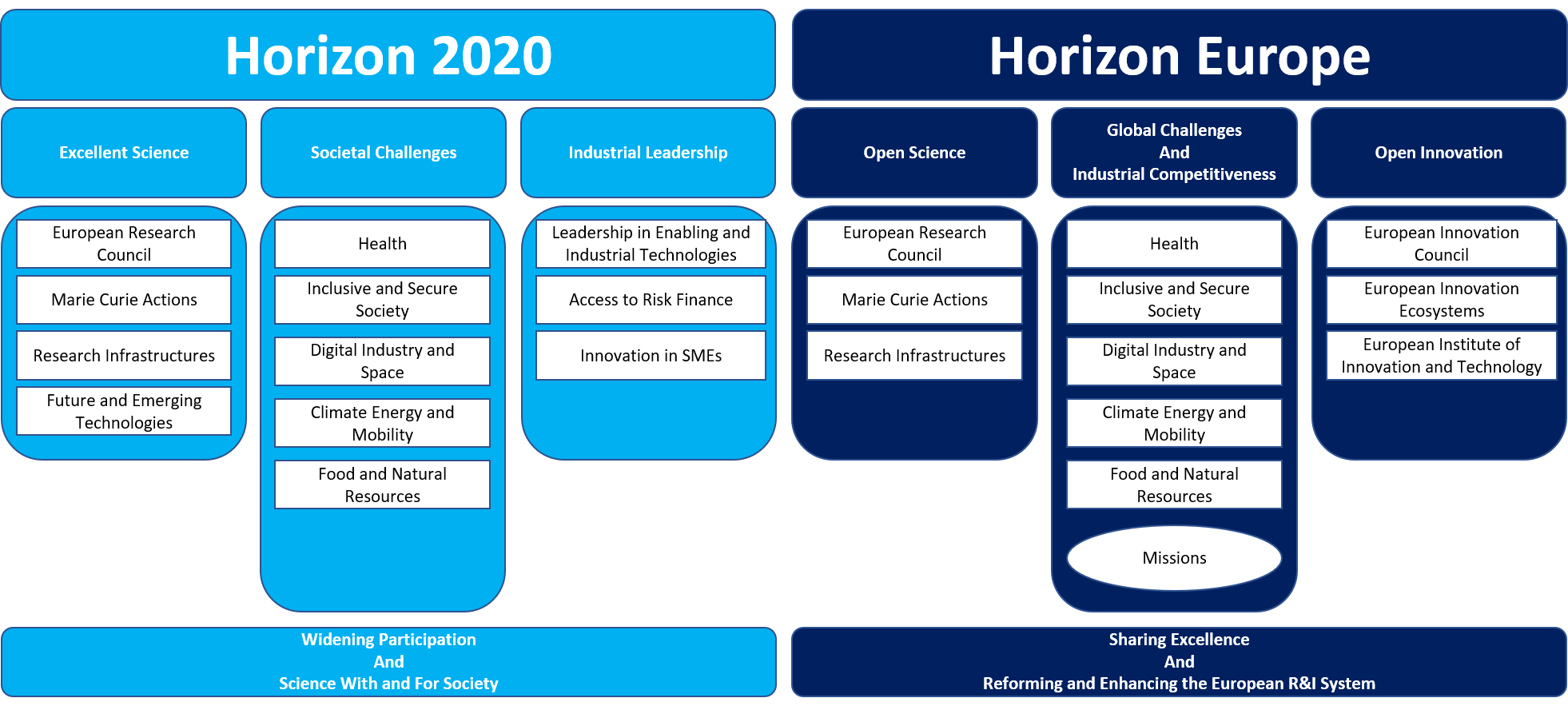 Changes to Pillar 1
Let's break that down, starting with the first pillar: Excellent Science vs Open Science. The only change here (other than the name), is that Future and Emerging Technologies (FET) has been removed from this pillar, and instead is spread out between the other two pillars. FET Flagship actions have evolved into the mission actions in pillar 2, whilst the remaining FET actions have moved to pillar 3, under a new name and with a focus on market-making breakthrough and disruptive innovation. Otherwise, this pillar remains quite unchanged, and still focusses on achieving scientific excellence through fellowships and exchanges; mono-beneficiary actions of particular importance to individual researchers.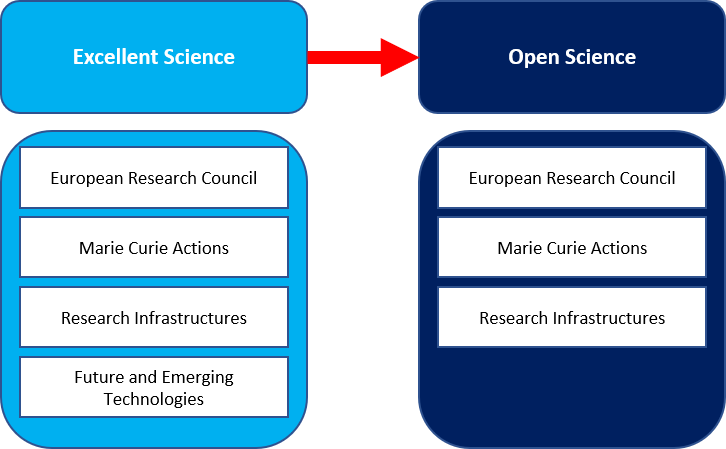 Changes to Pillar 2
The second pillar is Societal Challenges vs Global Challenges and Industrial Competitiveness. The name is quite different, but the topics covered are much the same, and the Joint Research Council (JRC) will continue providing scientific advice and technical support. The figure below breaks up each cluster, to identify the individual areas of intervention, that you can expect call topics on. The noticeable difference is the addition of missions; umbrella actions drawing from several clusters and/or other programme parts. As mentioned above, these missions are somewhat like FET flagship projects, but with set challenges aiming to boldly impact society and policy making for a significant part of Europe.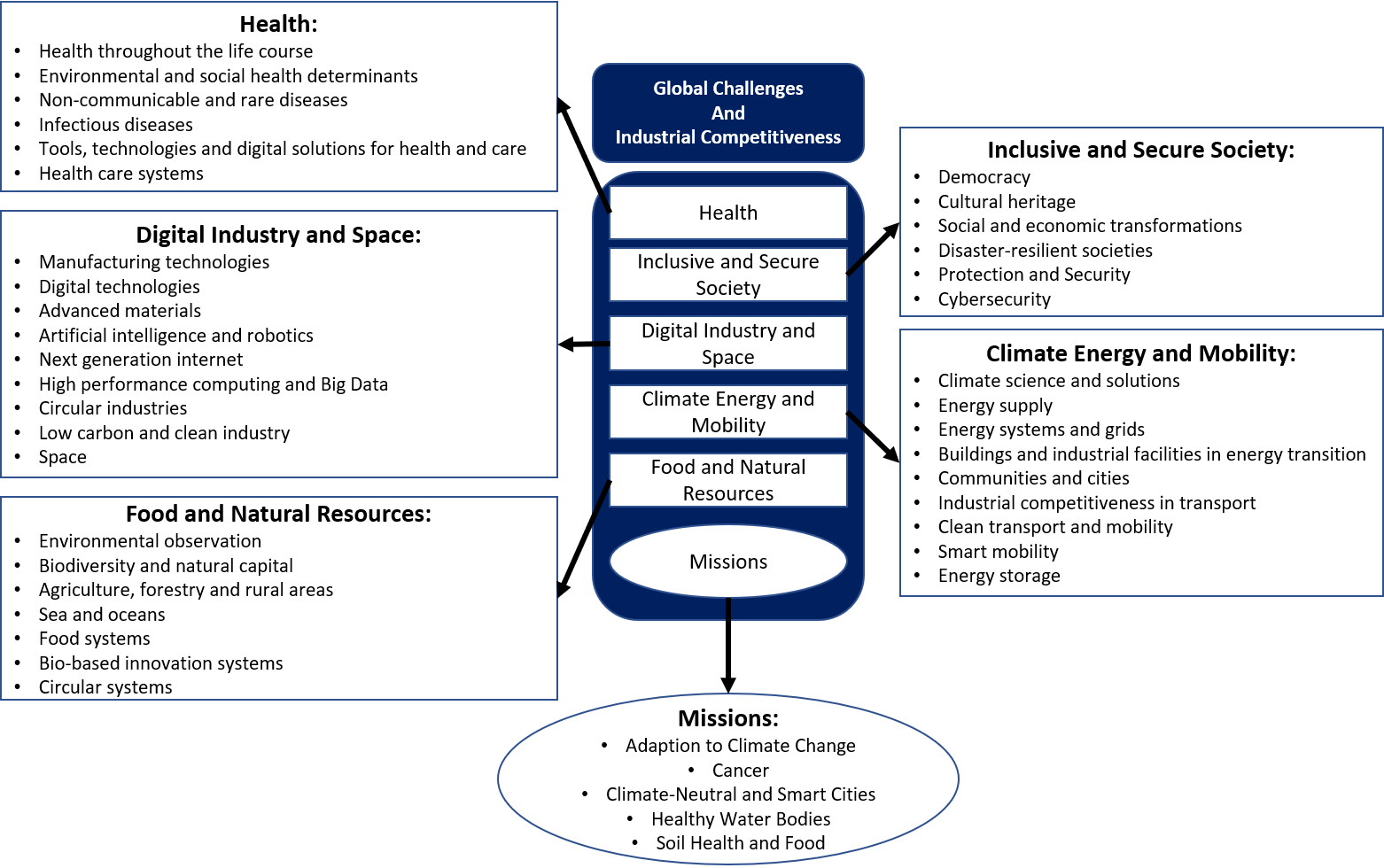 Changes to Pillar 3
The third pillar of Industrial Leadership vs Open Innovation is perhaps the largest alteration from Horizon 2020 to Horizon Europe. Industrial work has been rolled into pillar 2, and in its place is a pillar focussed on stimulating and supporting market-creating breakthrough innovations. There are three components to this pillar: The European Innovation Council (EIC), The European Innovation Ecosystems (EIE) and The European Institute of Innovation and Technology (EIT).
The EIC will focus on supporting disruptive/breakthrough innovations too risky for private investors, with either 'Pathfinder' grants (for early tech) or 'Accelerator' funding (for pre-commercial work). The EIE will focus on developing networks of interactions between innovators. The EIT will be complementary to the EIC by bringing key research, education, and business actors together around a common goal.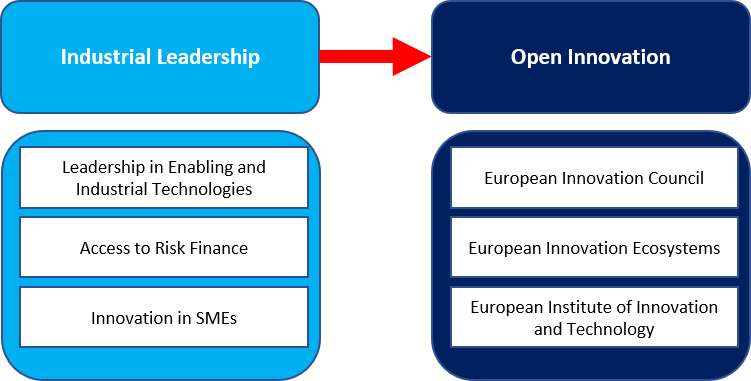 Changes to Horizontal Actions
The final changes are in the horizontal actions, which supports these three pillars, to widen participation and reform/enhance the current systems. More participation from non-EU countries with good capacity in science, technology, and innovation will be available in Horizon Europe, that was not available in Horizon 2020. Many minor reformations and enhancements are also agreed upon, including two major changes of note. The first major change is an update to partnership approaches, consolidating them into a simple and more efficient architecture of three possible forms: Co-programmed, Co-funded and Institutionalised. The second is that it will be mandatory that publications and data produced through the programme are open access.

Final Word
That about summarises the changes in Horizon Europe. As you can see, most changes are relatively simple reorganisations to streamline research and innovation, reinforcing Horizon 2020s strengths, and improving Horizon 2020s weaknesses. For more detailed descriptions of the changes from Horizon 2020 to Horizon Europe, see the European Commission website, or contact us at MODUS for professional guidance.